MANERA D'ÚS
Aplicar matí i nit sobre cara i coll.

Hidro-Active és un producte que renova els mitocondris de la pell, permetent que les cèl·lules recuperin la seva energia i disminueixin els signes d'envelliment, com ara arrugues, rugositat i heterogeneïtat del to de la pell.
Els nivells alts d'ingredients hidratants ajuden a restaurar la barrera hidrolipídica de la pell, deixant una aparença més sana i lluminosa.
TEST D'EFICÀCIA IN VIU
En un assaig d'eficàcia in vivo realitzat en un panell de 32 dones d'entre 40 i 60 anys amb signes facials de pell envellida, es va aplicar una formulació que contenia un 1,5% de DetoskinTM i un placebo a la cara i els avantbraços durant 56 dies. Es van realitzar diverses mesures instrumentals els dies 0, 28 i 56.
Els resultats obtinguts van ser els següents:
- Es va observar un augment del 53% a la síntesi de col·lagen i una reducció del 92% a l'enzim MMP-1, la qual degrada el col·lagen.
- Hidro-Active va demostrar una capacitat de desintoxicació de la pell , amb una reducció del 64% a les espècies reactives d'oxigen (ROS).
- En tan sols 28 dies, es va aconseguir un augment del 7% al gruix de l'epidermis i una millora del 9% a l'àrea ocupada per les fibres dèrmiques.
- En assolir els 56 dies d'aplicació, es va evidenciar un increment de l'11% al gruix de l'epidermis, un augment del 28% a l'àrea de les fibres dèrmiques i un increment del 50% a l'àrea de les formacions papil·lars, que indica una reducció en l'aplanament de les papil·les de la unió dermoepidèrmica.
- A més, es va observar un augment del 8% en l' homogeneïtat del to de la pell, un increment del 9% en l' elasticitat , una reducció del 9% en la quantitat i volum d'arrugues, i una disminució del 10,5% en la rugositat de la pell.
Aquests resultats van ser presentats al Congrés de la International Federation of Societies of Cosmetic Chemists (IFSCC), destacant els beneficis i l'eficàcia d'Hidro-Active.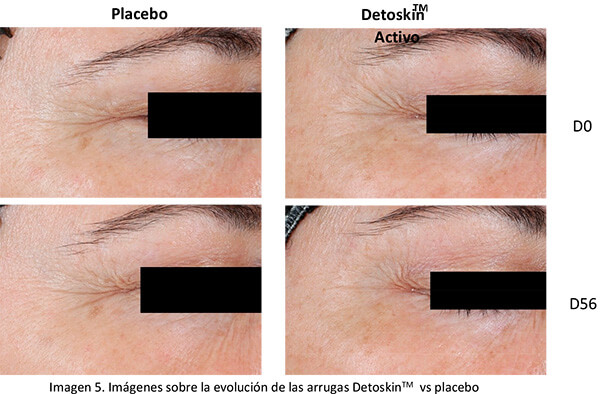 All product reviews comply with DIRECTIVE (EU) 2019/2161