HOW TO USE
Apply morning and evening to face and neck.

Hydro-Active renews the mitochondria of the skin so that the cells recover all their energy, which is visually manifested in a reduction of the signs of aging such as wrinkles, roughness and heterogeneity of tone.
High levels of hydrating ingredients help restore the skin's hydro-lipid barrier, leaving a healthier, more luminous appearance.



IN VIVO EFFICIENCY TEST
In vivo efficacy was tested under the following conditions: i
Panel of 32 women, between 40 and 60 years old, who presented facial signs of aging skin
Application of a formulation containing 1.5% DetoskinTM and a placebo to the face and forearms for 56 days. 
SSeveral instrumental measurements were made at D0, D28 and D56:   

Detoxification
Internal structure of the skin
External skin texture and wrinkles
RESULTS
Increases collagen synthesis by 53% and decreased MMP-1 enzyme (collagen destroyer) by 92%
Detoxifies the skin - Reduction of ROS (reactive oxygen species) 64%
In just 28 days the thickness of the epidermis increases by 7% and improves the area occupied by dermal fibers by 9%
In 56 days, the thickness of the epidermis increases by 11% and the area of ​​dermal fibers by 28% It also achieves a 50% increase in the area of ​​the papillary formations, that is, a reduction in the flattening of the papillae of the dermo-epidermal junction.
Increase in tone homogeneity by 8%
Elasticity increase by9%
Reduction in the amount and volume of wrinkles by 9%
Roughness reduction by 10,5%
Results presented at the Congress of the International Federation of Societies of Cosmetic Chemists (IFSCC)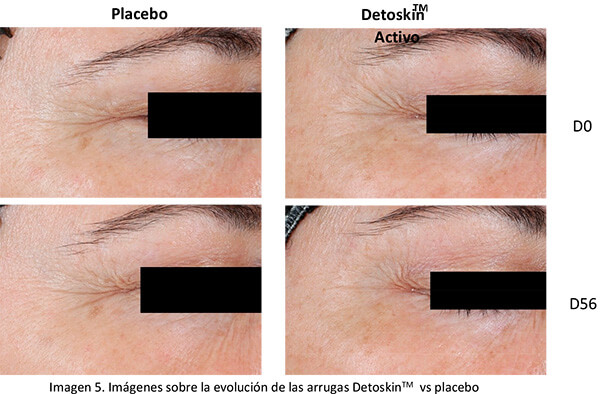 All product reviews comply with DIRECTIVE (EU) 2019/2161