HOW TO USE
Apply morning and evening to face and neck.

Age Defender is a moisturizing and anti-aging action treatment specifically designed to meet the needs of male skin. Its exclusive formula provides a cellular energizing effect, revitalizing the skin and restoring its natural tone. In addition, it helps to smooth the skin relief and promotes the regeneration of the water balance of the epidermis, providing a healthy and radiant appearance.
This product stands out for its ability to visibly correct the lack of firmness in the skin, reducing the appearance of fine lines and wrinkles. Thanks to its powerful ingredients, Age Defender offers visible results while providing intense and long-lasting hydration.
With Age Defender, men can enjoy rejuvenated and revitalized skin. Its regular use helps fight the signs of aging, providing a younger and more radiant appearance.
IN VIVO EFFICACY TEST
ENERGY
A study was carried out to evaluate the efficacy of ENERGEN as a skin energizing active. The analysis included instrumental measurements of toning, state of skin relief, hydration levels, as well as a subjective evaluation of cosmetic properties.
The trial was conducted on two groups of 12 male volunteers, aged between 28 and 46, who exhibited signs of skin fatigue. The study area was limited to the face and forearm. One group of volunteers applied a 5% ENERGEN™ formulation, while the other group used a placebo formulation. The volunteers applied the products twice a day for 28 days, and measurements were taken at the beginning of the treatment (D0) and the day after the last application (D28).
RESULTS
ATP Energizer: A 22% increase was observed.
Toning: There was an 8.8% increase in skin toning.
Rejuvenation: A 12% reduction in skin relief was observed.
Smoothing of major blemishes: A 13.1% reduction was recorded.
Average smoothing of blemishes: A reduction of 5.6% was observed.
Hydration: Hydration levels increased by 8.45% according to corneometry.
Revitalization: The self-assessment of the participants showed a satisfaction of 85-90%.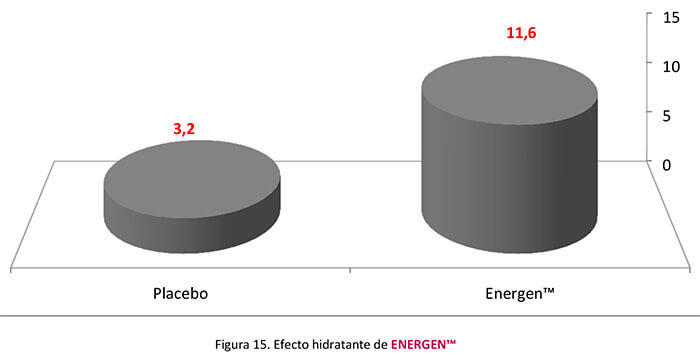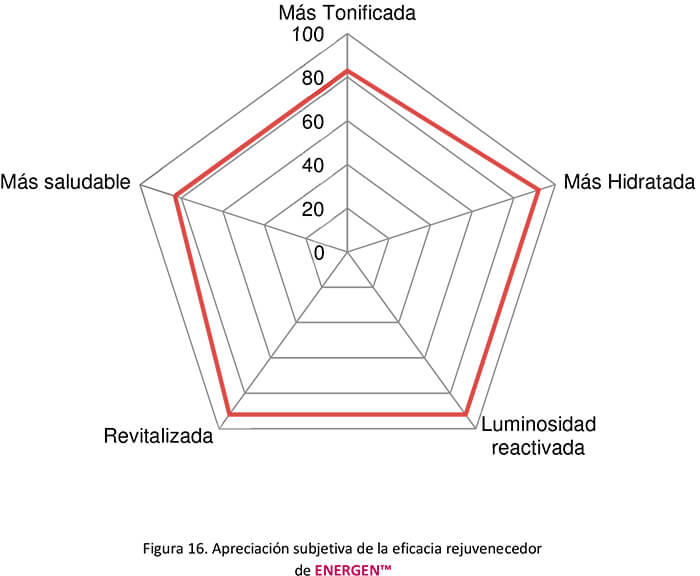 TENS-UP
The purpose of the study was to evaluate the in vivo efficacy of TENS'UP as a cosmetic ingredient with a lifting effect. A group of 15 volunteers between the ages of 40 and 65 participated in the study. A 10% aqueous solution of TENS'UP was applied to them and the effect of the product was evaluated 5 minutes and 2 hours after application.
The subjective evaluation of TENS'UP received an excellent rating in terms of its lifting effect. More than 90% of the volunteers confirmed this immediate tightening effect both 5 minutes and 2 hours after application. In addition, the volunteers also highly valued the anti-wrinkle action of the product.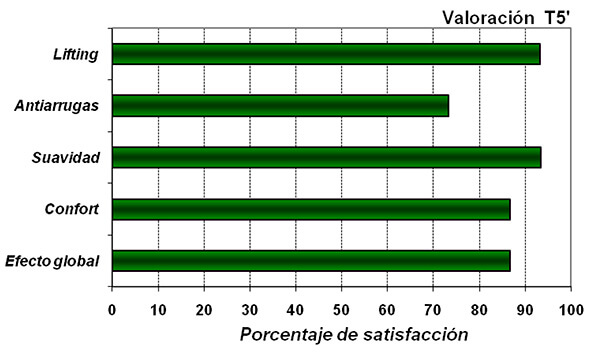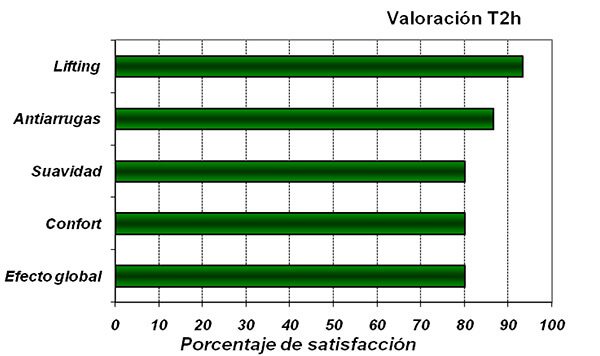 All product reviews comply with DIRECTIVE (EU) 2019/2161