DUDA by LAROME (3F) Perfume for Woman
OLFACTIRY PYRAMID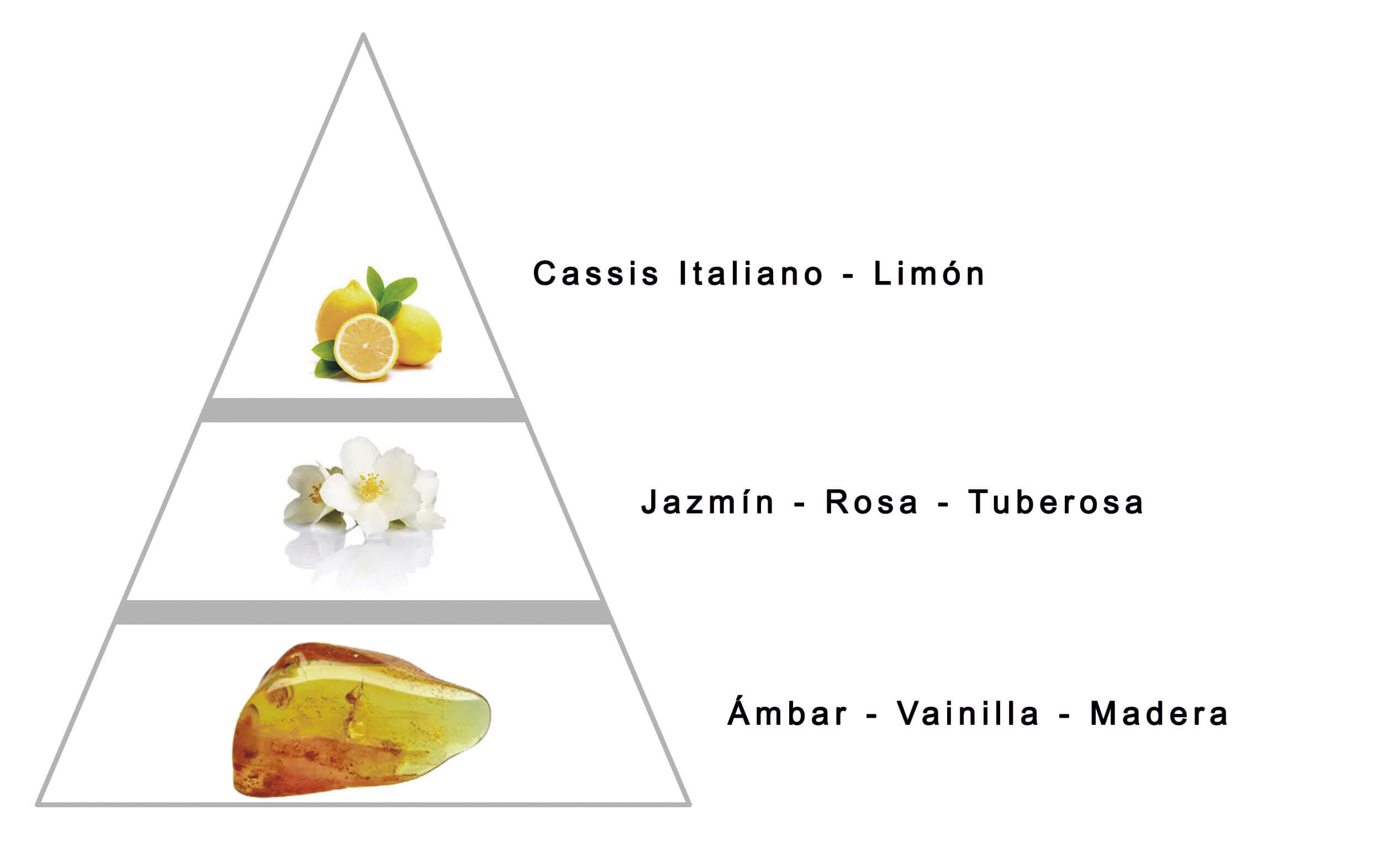 FLORAL-FRITYA VANILLA
Fall in love with its sweet and enveloping aroma . As if it were a caress on the skin, its top notes are an invitation to immerse yourself in a feeling of happiness and joy.
A sensual and sophisticated fragrance featuring top notes of Italian cassis and lemon , followed by heart notes of jasmine, rose and tuberose . The base notes include amber, woods, and vanilla, giving the fragrance a warm and comforting feel.
It transmits joy, femininity and warmth, perfect to use in special moments or to add a touch of beauty to your day-to-day.
PROMOTIONAL PACK COMPOSITION 100 ml perfume + 10 ml mini-perfume presented in a 19x19 cm gift box
** The 10 ml mini-perfume is not the same aroma as the 100 ml perfume.
All product reviews comply with DIRECTIVE (EU) 2019/2161
Diferente

Difere5 a todo lo actual, me encanta, aunque no conozco original
Frasco como siempre, precioso
Duda, la nueva Quizás.

Muy bien. Aun me queda (muy poco) de Quizás, quizásy la verdad és que al ponerme Quizás y Duda cuesta de identificarlos pq se parece muchísimo. Después la durabilidad y la intensidad es menor, pero dura bastante. Contenta de encontrar el Perfume Duda.
Encantada

Estoy sorprendida, para bien de lo genial que es la colonia. Esta muy conseguida.
Volveré a comprarla seguro, ha sido todo un acierto
PERFUME DUDA

Llevaba mucho tiempo buscando algún perfume q se pareciera al original y estoy encantada ,ninguno me convencía y este es prácticamente igual,estoy muy contenta con la compra y tepetirey ada vez q se me acabe ❤️
Mejor imposible

He quedado sorprendida, pues he usado bastantes años un perfume que ya está descatalogado y este se asemeja muchísimo , por no decir que es prácticamente el mismo. QUIZÁS sea el mismo.
Un calco de Quizás Quizás

Estupenda equivalencia de Quizás Quizás, es un calco!! Y, por lo menos, en mi piel, su durabilidad es superior a las 8h. Gracias Larome por crear Duda, fue decepcionante, para mí, enterarme de que Quizás Quizás había sido descatalogada. Durante muchos años fue uno de mis perfumes de cabecera.
.

Todo perfecto. El olor es igual a la original y ya que está descatalogada es genial esta opción.
El envío rapidismo
Muy logrado

El perfume está muy logrado y se mantiene bastante
Muy rico perfume

Cumple con lo esperado

Es igual al Quizas Quizas, era de mis perfumes favoritos y desde que lo descatalogaron uso este que me huele igual y dura bastante mas que otros perfumes de imitacion

Perfume muy logrado y la atencion inmejorable

Me encanta, suave, discreta, buena duracion

Huele genial!

Llevo este perfume desde hace meses, me parece muy logrado y me dura toda una ma?ana.

Riquisimo, la duracion es la ideal

Huele fenomenal y la fijacion es muy buena

Es igual que el original, me encanta

Me gusto el perfume. el envio fue rapido

Es muy parecido al original